Fees are also cheaper than "Staffing". If you have already found suitable human resources, this service enables you to reduce risk in comparison with direct hire, and outsource worker management tasks.
This is the ideal service if you are considering improving the employment environment for your personnel, such as by enrolling them in Japanese social insurance.
This service is called EOR (Employer of Record) Service / Third Party Employment Service. The system itself is the same as for ordinary staffing. The key difference is that your company finds the human resources to be employed by Mannet.
Please feel free to consult us about EOR (Employer of Record) or PEO(professional employer organisation). We are professional about Japanese HR law and Japanese lavour market. We propose you the best solution for your situation.
WE ARE GENUINE JAPANESE HR COMPANY, SO REALLY FAMILIAR WITH JAPANESE ENVIRONMENT (JAPANESE CULTURE, LAVOUR LAW, LAVOUR MARKET, ETC.) AND MANY EXPERINENCE IN JAPAN FOR MORE THAN 35 YEARS.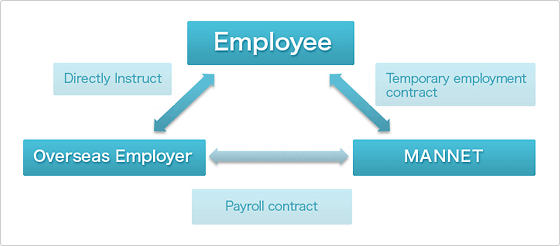 ---
Example
Food Products Manufacturer, USA
A leading US producer of gourmet meat products wanted to expand their sales operations in Japan, but did not have the budget to use expensive temp staff and lacked the time and resources to establish their own company in Japan. They had been using temp workers from another agency, but were frustrated by the costs and lack of direct control afforded to them.
By using Mannet's easy and economical payroll management service, they were able to employ their own hand-picked sales representatives and instruct them directly, minimizing costs and reducing the stress of managing their employees in the workplace.
Travel Agency, Australia
A major Australian online travel booking agency had recently bought out an Asian competitor in Singapore with employees in Japan, and wanted to continue to employ these staff without the need to establish their own entity in Japan.
Mannet stepped in to act as a proxy employer for them, handling all salary and insurance calculations, and facilitating a seamless transition of employment for the personnel involved. With Mannet employees on the ground in Japan to ensure a smooth changeover, the company felt secure that their Japanese operation was in good hands.
---