1. Recruiting
Mannet recruits and suggests human resources for you to hire directly as employees or through outsourcing. We charge a one-time fee equivalent to 30% of the employee's expected annual salary.
Your company is responsible for administrative tasks such as worker management and business agreements.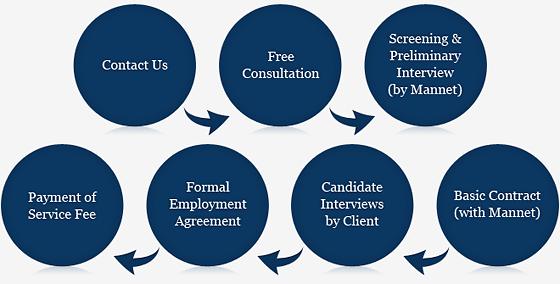 2. Staffing
Mannet dispatches staff to work for a limited period of time. We employ the staff and handle all worker management tasks.
Your company pays staffing fees (staff salary + Mannet service fee) on a monthly basis.
Staffing period is really variable. From 2 hour English-Japanese meeting interpritor dispatching, up to long years Staffing, we will prepare suitable personel.
Translator / Interpreter short period(only 1 day 2hour etc.)/ long term (several years) English / Chinese / French / Spanish / Korean / Germany / Tagalog etc.
Sales person
Support Satff
Business Manager
Warehouse Staff etc.